The new families need to fill out the registration information online; however, registration will be finalized ONLY after orientation and evaluation on September 9, 2023 at the school from 10:00 am to 12:00 noon. All new students will be evaluated and, based on space availability, placed in the appropriate class. If the demand exceeds the capacity, a wait-list on a first come first served basis will be established. Click flowchart to see the flowchart for New Families registration.
Each family has one primary account to which all their children and their individual accounts, provided by the parents, are linked. This primary account allows you to see the user's only section of the site and use the site for future years registration. In addition through this account you will be able to see your children's classes, homework, lessons, and to sign up for different committees and email groups.
To register, your child must be 5 years old by September 1st.
To start the registration, you need to:
1- Select a unique username and email address for primary account holder (username: firstname.lastname)
2- Select a unique username and email address for each student ( If your student does not have email address create one or use another one that you have you can change it at a later time.)
Note: If the username or email has already been used system will not accept it.
The registration consists of three pages: (Please read this before starting registration)
1-Primary account information (Click on image to enlarge)
You Must Click on join usergroup to join mailing list. ( ICEC will communicate through the usergroups), You can join, Nowruz, Yalda and other usergroups.
Emergency Contact Information. In case of an emergency, when you cannot be reached, this is the person who is authorized to pick up your son or daughter from school. Click on "ADD ANOTHER EMERGENCY" to add more than one person. Then click on "Continue" in the bottom of page to continue to the student section.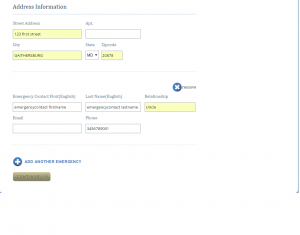 2- Student information
In addition to student's first and last name in English and in Farsi (if your computer is not capable of writing in Farsi, use English characters), grade, gender and allergies, you need to create an individual account and provide an e-mail for each student (if your student does not have an email account, please create one, or use another email that you have, or make an email like "firstname.lastname@icec.com" you can change it at anytime when your student is ready to get emails from the teachers. Also, it is important to provide information if your child has any allergies that school needs to know.
Individual student's account allows them to login to the site to check on their homework, lessons and user's only sections. Teachers will communicate with their students regarding the new lessons, tests, homework, and projects through the e-mail addresses provided by the primary account holder.
For additional students, click on "ADD ANOTHER STUDENT" and repeat the process for any other siblings in the family. When done, click on "Continue" at the bottom of page to go to the payment page.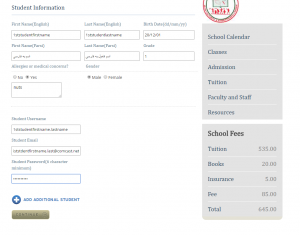 3- Payment
As a new family you have completed imputing the information. Do not go through payment at this time. You need to go to school on in-person registration day in September from 10:00- 12:00 to finalize your registration. On the registration/orientation day, new students will be evaluated and placed, based on space availability, in the appropriate class.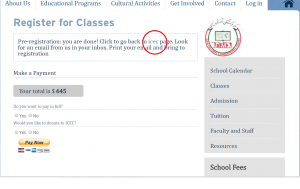 After completing the registration, you may login to learn more about Community and School Association (CSA) and to join different committees. (sign up for committees)
To start Registration process (Pre Registration is closed. You need to go to school on Saturday between 10:00 am to 12:00 to register based on availability and space.
Pre-Registration (from 8/21/2023- 9/7/2023)
If you have any questions, please email info@iraneducationalcenter.org.