Saturday, October 12, 2013, was a night of celebration and appreciation in commemoration of ICEC's 25th Anniversary. The ICEC community celebrated and showed its appreciation of its students, alumni, families, teachers and founders at Marriott's Inn and Conference Center at University of Maryland, University College.
Over 350 guests enjoyed the festivities. The celebration included a photography exhibit of ICEC's students over the years. Exclusively Events' musicians Kimia and Kamyar Arsani of the Mehr Aeen Group performed classical Persian folk music during the cocktail reception.
The evening's proceedings continued with special appearances by Montgomery County Executive, the Honorable Isiah "Ike" Leggett and journalist and producer Saman Arbabi. Iman Huschmand was the evening's Master of Ceremonies, with entertainment provided by Exclusively Entertainment.
ICEC would like to extend its heartfelt thanks to all the volunteers and participants for their support in making this Gala an amazing night. ICEC is gratified in knowing that this event demonstrates the fact that we are a community, proud of our culture and achievements, and well positioned for an exciting future.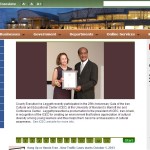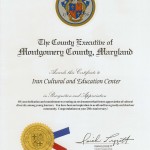 Montgomery County Executive, the Honorable Isiah Leggett presents Mrs. Iran Arbabi with a proclamation recognizing ICEC's creation of an environment that fosters appreciation of cultural diversity.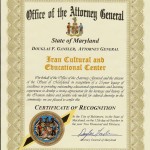 Proclamation from Maryland Attorney General Douglas F. Gansler recognizing ICEC's 25 years of providing educational opportunities and learning experiences to develop a strong appreciation of Iranian history, culture and language.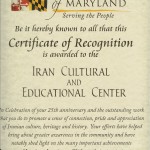 Proclamation from Maryland Comptroller Peter Franchot recognizing ICEC 25 years of work promoting a sense of connection, pride and appreciation of Iranian culture, heritage and history.
To see pictures of the event, please click on Gala Pictures (Thanks to ICEC Alumna Sima Jafari)
Slide show for 25th Anniversary Event: As Iran Cultural & Educational Center celebrates it's 25th anniversary, we would like to celebrate the people and memories that have brought us to this moment. Slideshow (Thanks to ICEC Alumna Tatiana Motevalli-Oliner). Dinner time slide show (Thanks to Behnam Movahed)